Constantino's Warehouse District
1278 W.9th Street
Cleveland, Ohio 44113
216-344-0501
Thomas Wiskowski at 216.344.0501 x 222
tom@constantinosmarket.com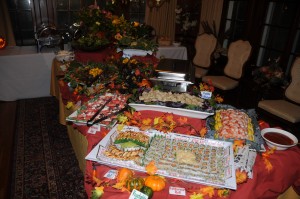 Spring has arrived.  We have delicious, appetizers, salads, sandwiches and desserts. Plus, we've tweaked our menu a bit, and are working hard to save you even more money. There's more in store, too, like daily and weekly specials and items just too numerous to list on our menu.
Since 2005, Constantino's Catering has been building a reputation for personalized service, exquisite presentation, and innovative menus. We can help you plan and execute your event and take the worry and stress out of entertaining.
Constantino's University Circle
11473 Euclid Ave
Cleveland OH 44106
216-721-6000 x223
Our basic Corporate Catering menu is really just a starting point. Our creative staff will work with you one on one to create the menu of your dreams for each and every event you put on. No time for creativity? Simply select something from the menu. Everything is of the highest quality and prepared with the freshest ingredients. We also make simple or sumptuous custom gift baskets. Just call for details.
We look forward to providing for your catering and event planning needs, whether for corporate functions or private parties. We suggest orders be placed via phone or email at least 24 hours prior to delivery or pick up time. Certain items require 48 to 72 hours advance ordering. For orders for 50 or more people, 3 days advance notice is suggested when ordering.