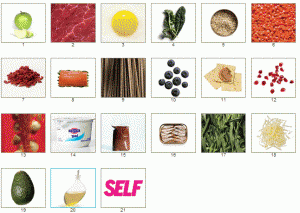 Alright now, we're not implying anything. We can't even see you. But hey, it's about that time – for all of us. The battle of the belt's the main event. Our somewhat fickle post-holiday weather has strongarmed us into entertaining our comfort food kick instead of starting on the healthy choices we need to make to get ready for spring. Not nice.
It's time for a dietary intervention. Here's the GRANDADDY SUPERFOOD SHOPPING LIST to get you in gear for the new you. We were super-excited when we found this list, because you can find just about ALL of these foods here at Constantino's (as long as they're available to us).
Just pull it up on your phone, come in, start shopping. You can do it! 
All of these foods are really delicious, energy-giving, nutrient powerhouses that pack large doses of vitamins, minerals, antioxidants & polyphenols which help you rev up your calorie burn & curb your cravings  - to help you shed those pounds. You'll be fighting disease in the process, and you'll feel great when you start mixing them into your diet.
So really, what are you waiting for? What, do you not like feeling great or something? Just grab your phone, and get here.
We've got just about everything but the gojiberries (they're kind of tough to get to outside of Asia

APPLES
STEAK
LENTIL
GOGI BERRIES
WHEAT PASTA
ALMOND BUTTER
CHILES
SARDINES
TARRAGON
PARMESAN CHEESE
APRICOTS    Learn more 
ARTICHOKES    Find out more 
ASPARAGUS     learn more
AVOCADOS     Read more 
BANANAS     Learn more 
BEANS   Read more 
BEETS     Find out more 
BELL PEPPERS    Find out more 
BROCCOLI     Find out more 
BRUSSEL SPROUTS      Learn more 
CABBAGE     more 
CANTALOUPE     more 
CARROTS       Click for more
CAULIFLOWER  More info
CHERRIES  Preserve your brain and heart health. Cherries may be credited with slowing down the aging process and even with ending insomnia   Learn more 
CHIA SEEDS   Learn more
DARK CHOCOLATE   Find out more 

EGGS Full of protein and extremely versatile, eggs are rich in nutrients and can help you to tackle a number of health problems and encourage weight loss  Learn more 
FISH     Find out more 
FLAX     Learn more
GARLIC     Learn more
GRAPES     They may strengthen your eyes, help with circulation, fight cancer & kidney stones  Read more 
GREEN TEA     1 cup a day may help lose weight and battle against strokes and prevent or fight other diseases
HOT PEPPERS    may aid in weight loss by increasing your metabolism, help with digestion, an improved immune system, and better blood circulation
KALE    Has powerful antioxidant qualities -high amounts of phyto-chemicals that may help in preventing macular degeneration and cataracts
KIWI
LEMON/LIME    They may fight everything from cancer to the common cold
LOW-FAT YOGURT    May help with increased bone strength, lower cholesterol, a better immune system and better digestion & fight ulcers
MANGOS     May help strengthen your memory, digestion, and  prevent other diseases
MUSHROOMS    May help control blood pressure and lower your cholesterol
NUTS     Easy to snack on or pack when heading out to the museums in the areas – loaded with healthy fats -walnuts in particular may be great for lowering cholesterol &  improving memory   Learn more
OATS     Oats are well-known for their possible cholesterol lowering abilities, may also improve the condition of your skin & help fight diabetes
OLIVE OIL      Olive oil is a staple -strengthens the heart, fights diabetes & helps with weight loss
ORANGES      May strengthen your immune system & strengthen your heart
PAPAYA     A nutritional powerhouse – will leave your skin looking fabulous, too
PEACHES    Great for digestion and constipation
PINEAPPLE      To strengthen your digestion and your bones and aid with weight loss
PUMPKIN       Tons of fiber and may control blood pressure and normalize heart function
POMEGRANATES    Up to 7 times the amount of antioxidants of green tea, may also fight cancer, and reduce blood pressure &  bad cholesterol
QUINOA    This "supergrain" is high in fiber, filled with protein, and offers a pleasant nutty flavor. It cooks up like rice and is naturally gluten free  Learn more
RICE (BROWN)   Not only is it a very low allergen food, it may also protect your heart and fight diabetes, kidney stones and other dieases
SPINACH    Popeye was onto something – spinach may help fight cancer, improve your cardiovascular health and improve brain function
SPIRULINA    Loaded with essential vitamins & nutrients
SPROUTS     Total body nourishment, so many essential nutrients fit into these tasty baby plants
SWEET POTATOES     A fantastic carb that may protect your vision, encourage a good mood & keep your bones strong
SWISS CHARD    Related to spinach & beets and packs quite a nutritional punch
TOMATOES    These fabulous orbs may be big time cancer fighters! They also help battle high cholesterol.
WATER   8 glasses of water every day – it helps you lose weight, keep your skin in great condition and help you battle kidney stones. we have ALLLL  kinds of water varieties at Constantino's
WATERMELON    May be a fabulous aid for weight loss, lowering cholesterol, avoiding strokes & controlling your blood pressure
WHEAT GERM      May help fight colon cancer, keep things "moving smoothly" and help your digestion
WILD-CAUGHT SALMON     Wild salmon provides oodles of omega-3 essential fatty acids, a crucial bit of nutrition for us human, and  B3 and B12 which contribute to a healthy metabolism
WINTER SQUASH    May help lower blood pressure and even help with post-workout recovery
* Stay connected with ConstantinosMarket.com/blog for more food for thought, beverage talk and other interesting  & insightful chatter.
(*You know we're not doctors, dietitians, or nutritionists. Wait, that's not entirely true, come to think of it. But no information on this post is meant to replace or be construed as qualified or proven medical advice from your own doc. But you already knew that and legally we just have to disclaim  it

 List & images courtesy of Self & SKinny MS and their affiliate site partners.